Exploring the Majestic Beauty of Arang Kel – Neelum Valley
Arang Kel, a hidden jewel in the heart of Pakistan's Neelum Valley, awaiting all nature lovers and adventurers. The lovely settlement, located at an elevation of 8,379 feet above sea level, is difficult to reach but offers a wonderful perspective. Arang Kel's lovely green meadows and tranquil blue river are a delight to behold. Join us on a tour to discover this town's breathtaking beauty and unique culture. Prepare to be captivated by the stunning sights of this hidden paradise.
The Journey to Arang Kel: Getting There is Half the Adventure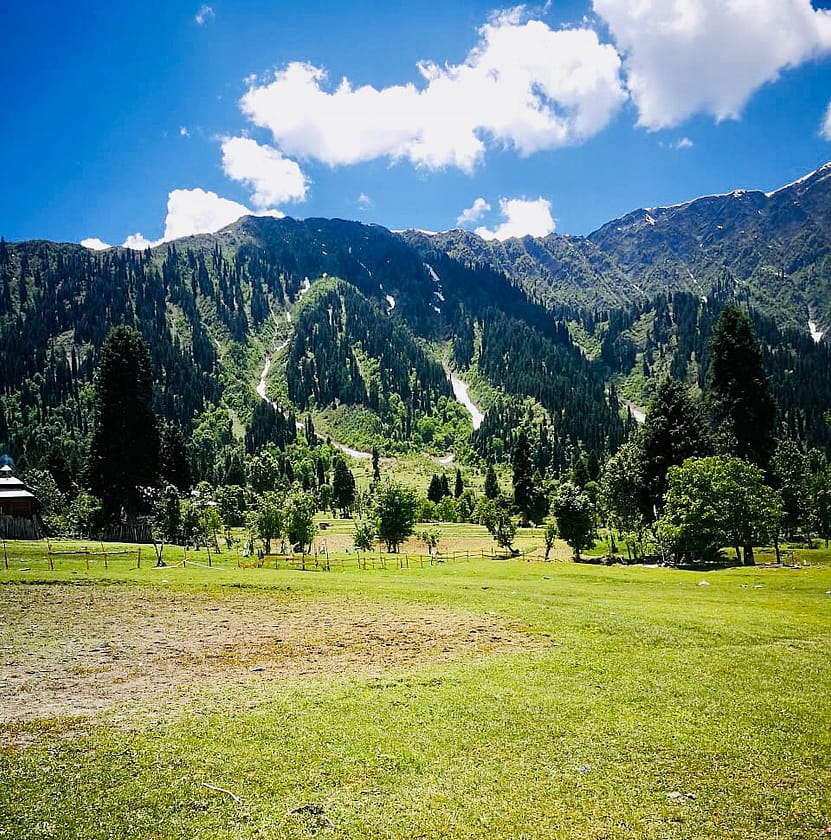 Getting to Arang Kel is an adventure in and of itself. To get there, guests must first drive 5-6 hours from Muzaffarabad to Kel village, then trek 3-4 hours across a beautiful valley. The challenging walk offers breathtaking views of the Neelum River and beautiful green mountains, as well as a refreshing rest at the Kutton Waterfall. Visitors can immerse themselves in the local culture and enjoy the hospitality of the people along the way. Arang Kel is a remarkable journey that combines natural beauty with cultural immersion.
Exploring the Picturesque Village: A Glimpse into Local Life
Arang Kel is a lovely village with a population of about 300 people that provides a look into local life. The beautiful wood carvings on the buildings of wood and stone demonstrate the residents' skilled handiwork. Visitors can wander around the village and visit the modest bazaar, which sells local cuisine and gifts. Witnessing the vivid cultural events, with residents dressed in traditional clothes, singing, dancing, and providing food to visitors, is a pleasure. This is a must-see place for everyone interested in immersing themselves in local culture and witnessing the villagers' artistic abilities.
Trekking through the Arang Kel – Neelum Valley : A Nature Lover's Paradise
This small town is a nature lover's and adventurer's paradise. The valley boasts natural beauty, such as snow-capped mountains, lush forests, glistening rivers, and cascading waterfalls.
Tourists that visit Arang Kel commonly go trekking because the Neelum Valley has various paths of varying difficulty levels. The most popular hike is from Kel to Arang Kel, which ranges from easy river walks to difficult mountain treks. The climb takes about 3-4 hours and offers stunning views of the surrounding mountains and the Neelum River. Visitors can also go camping, rock climbing, and trout fishing in the Neelum River. Ratti Gali Lake and Shounter Valley are beautiful places for picnics and leisure.
Exploring the Cultural Diversity of Arang Kel: A Melting Pot of Cultures
Neelum Valley is a harmonious mix of cultures, where various ethnic groups, such as Kashmiris, Paharis, Gujjars, and Baltis, coexist peacefully with their unique customs and traditions. Neelum Valley's blend of cultures is a unique experience that visitors to Arang Kel should not miss. It presents a chance to immerse oneself in Pakistan's cultural heritage and learn about the different communities that call Neelum Valley home.
Where to Stay and What to Pack: Tips for a Comfortable and Memorable Trip
Arang Kel has basic guesthouses with breathtaking valley views, run by locals, offering a glimpse into rural life in Pakistan. Booking your stay in advance is vital, as accommodation can be limited, particularly during peak tourist season.
Check Arang Kel Map
What to Pack
Warm clothing: Arang Kel is located in the mountains and can get chilly, especially at night. Pack warm clothing, including a jacket, gloves, and a hat.
Comfortable footwear: The trek can be challenging, so it's essential to pack comfortable and sturdy shoes. Avoid open-toed shoes as they may not provide enough support.
Water bottle: It's essential to stay hydrated during the trek, so pack a water bottle and refill it at one of the several water sources along the way.
Sunscreen and sunglasses: The sun can be strong in the mountains, so pack sunscreen and sunglasses to protect your skin and eyes.
First-aid kit: Pack a basic first-aid kit with essentials such as bandages, pain relievers, and anti-bacterial ointment.
Camera: Arang Kel is a photographer's paradise, so don't forget to pack your camera to capture the stunning views and natural beauty of the valley.
By following these tips, you can ensure a comfortable and memorable trip. Remember to respect the local culture and environment, and leave the valley as you found it, preserving its natural beauty for future generations.
Also Check: Neelum Valley Guide
Final Words
In conclusion, Arang Kel is a Pakistani hidden gem that offers a unique combination of natural beauty, cultural diversity, and adventure. The journey to the settlement is difficult but worthwhile, with stunning vistas of the Neelum Valley along the way. Visitors can appreciate the warmth of the inhabitants, explore the cultural richness of Neelum Valley, and immerse themselves in the calm of country life once they are in town. It is critical to plan ahead of time and pack appropriately for a pleasant and memorable trip while respecting the local culture and environment. Arang Kel is a must-see location for anybody visiting Pakistan, with its magnificent scenery and unique cultural experiences.