Importance of Tourism in Pakistan – How does Tourism Industry strengthen our economy?
The importance of Tourism in Pakistan is that it helps boost the economy. Many countries depend only on their tourism industry for high development and GDP contributions. People living in different nations come and benefit a country.
"The world is a book, and those who do not travel read only one page."
What is Tourism?
Want to have a break from work? Are you eager to learn more about other cultures? Do you want to get out of your comfort zone? Travelling is the solution for all. Travel across the world while benefiting the country you visit.
Tourism. The act of investing energy away from home, chasing leisure, enjoyment, as well as comfort. One of the prime sources of economic growth is tourism. Sightseers from all over the world go to a country. Therefore, it experiences an improvement in its economy. As more venture capitalists visit the country, they bring about more money, resulting in better foreign exchange.
Significance of Tourism
Tourism Business is a service sector, and it provides the nation with many job opportunities and ways to earn revenue. Also, tourism strengthens rural communities and helps minimize poverty. It also leads to better infrastructure like airports, roads, railways, etc. Additionally, it helps in supporting intercultural peace. Furthermore, tourism helps promote handicrafts; and opens opportunities for hand workers globally. Apart from the above, it also raises awareness in people about climate changes and makes them realize the preservation of nature. Tourism increases international commerce and trade. And it can boost the GDP to a higher level. Therefore, we must understand the Importance of Tourism in Pakistan.  
History of Tourism in Pakistan
Tourism is a rising industry in Pakistan. People from all around the world used to visit Pakistan for its beautiful cultural heritage and scenic beauties. Mountaineers and tourists used to travel long distances to visit Northern areas of Pakistan.
Tourist Attractions in Pakistan
Pakistan is a beautiful tourist destination for citizens all over the world. It has several cultures, lovely landscapes, and amazing historical heritage along with many religious places. Also, there are scenic beauty and snow-capped mountains in Murree, Swat Valley, Neelum Valley, Hunza, which are paradises on earth. Also, there are many different religious places of Hinduism, Sikhism, Islam, and Buddhism spread all over Pakistan.
Tourism by Province
There are provinces in Pakistan; Sindh, Punjab, Baluchistan, Khyber Pakhtunkhwa (KPK), independent lands of Azad Jammu and Kashmir, and Gilgit Baltistan.
Sindh
سندھ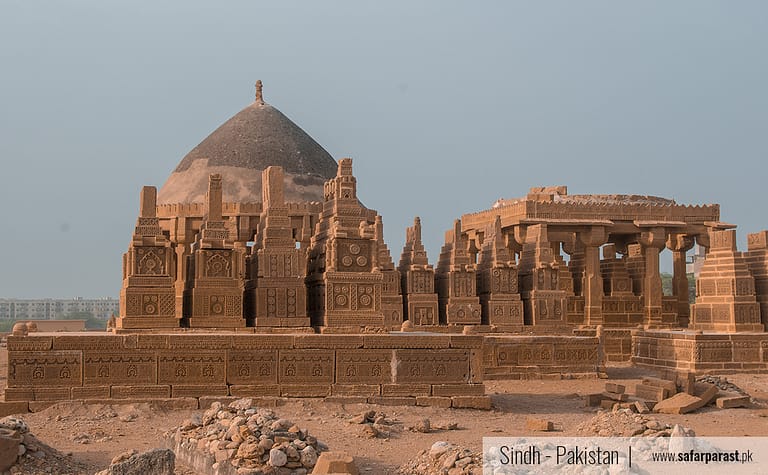 The province is known for its rising urbanization and its cultural heritage. Many ancient cities are in Sindh, such as Mohenjo-Daro, near Larkana, Aror, near Sukkur, and many more.
It is the capital of the Sindh province and the biggest city in Pakistan. It is a unique blend of cultural heritages and is referred to as the 'Food Hub' because of the variety of dishes offered. Also, the tomb of Quaid-e-Azam Muhammad Ali Jinnah, the founder of Pakistan, is in Karachi. The two largest ports, Karachi Port and Port Qasim, are also in Karachi. Also, it has numerous cultural sites, such as National Museum, Mohatta Palace, Hindu Gymkhana, Frere Hall, and many others. In addition, there are several beaches within the city; Manora Island, French Beach, Clifton Beach, etc.
Punjab
پنجاب
It is the send-largest province known for its religious diversity, having several mausoleums of Sufi Pirs and saints in Punjab. It has several multiracial cities such as Lahore, Rawalpindi, Multan, etc.
Lahore
It is a city recognized for its history. There are huge buildings and Sufi shrines from the Mughal era like Wazir Khan Mosque and Badshahi Mosque. Also, Shalimar Garden and Lahore fort are places tourists visit in Lahore.
Rawalpindi
It is a well-known hill station for visitors. There are several sites from the Mughal era in the city of Sheikhupura, such as Rohtas Fort near Jhelum. A key location for the Hindu devotees is the Katasraj Temple in Chakwal city. Also, one of the oldest mines of Asia, the Khewra Salt Mines, is located in Rawalpindi.
Balochistan
بلوچستان
Balochistan is the largest province by area and is known for beautiful waterfalls and lovely beaches. The largest port of Balochistan is the Gwadar Port, near Makran. Also, a place known for fishing is in Baluchistan, named Pasni. Also, there are various rock formations along the Makran Coastal Highway.
Also Check: Top Places to Visit in Balochistan
Quetta
It is the provincial capital of Baluchistan and is also the 10th largest city in Pakistan. Also, there is a site named Quaid-e-Azam's Residency in Ziyarat. It has the oldest and the highest juniper forests. The main entrance to Quetta was the Bolan Pass.
Khyber Pakhtunkhwa (KPK)
خیبر پختونخوا
The province of KPK is famous amongst adventurers and explorers. Its landscape is a mixture of valleys, hills, mountains, farms, etc. One of the renowned passes is the Khyber Pass that connects Pakistan with Afghanistan. Shandur Pass is called the "Roof of the World" and links Chitral to Gilgit. It is the highest Pass in Pakistan. Additionally, Swat Valley resides in the North of the Province. Besides, there are many other stops along the way like Shogran, Naran, Kaghan Valley, Babusar Top, Lake Saif-ul-Mulook, etc.
It is the capital and the largest city of the KPK Province. It is one of the oldest cities in the world. Also, it is the fifth-largest city in Pakistan, concerning its size. Moreover, the very Khyber Pass is near Peshawar.
Gilgit Baltistan (GB)
گلگت بلتستان
Previously known as the Northern Areas, GB is an autonomous region run by Pakistan. Here, people can find top-notch dry fruits. Also, it is multilingual, and people speak over six languages in GB. Apart from the Polar Regions, GB has the longest glaciers.
Hunza
It is the favorite of everyone, having various mountains, meadows, and lakes. People mostly visit Hunza to find peace and a break from the daily routine. Hunza is known for its clean water, friendly citizens, and unique culture. The residents of Hunza are very healthy because they have a good lifestyle.
Also check / People also search for
Azad Jammu and Kashmir (AJK)
آزاد و جموں کشمیر
It is neither a Pakistani agency nor a province but is independent. However, it has its government and is linked to Pakistan administratively and economically. Muzaffarabad is the capital of AJK. The area is mountainous, green, and fertile in terms of land.
Pakistan as a Tourist Spot
The British Backpacker Society characterized Pakistan as one of the friendliest countries and the top adventure travel destination. It has one of the highest mountains in the world, with several religious and historical places. Also, it is full of heritage and culture.
The Karakoram Highway
شاہراہ قراقرم
The link between China and Pakistan; The Karakoram Highway, is the Highest Paved International Road. It is 4,693 meters above sea level, and many also refer to it as being the eighth wonder of the world. People from Islamabad can reach Gilgit and Skardu using this road. Moreover, the Karakoram Highway is one of the most riskily constructed roads. By Karakoram Highway, many mountaineers and cyclists got easy access to several mountains, lakes, and glaciers.
The Mountain Ranges
In Northern, Pakistan is the most beautiful nature. The three mountain ranges, the Hindukush, the Himalayas, and the Karakoram, meet in Pakistan. The Himalayas are located in the Kashmir Valley and are the most visited tourist spot, and numerous campers come during the summers for camping, hiking, and fishing. Besides that, the areas near the Hindukush Mountain Range have various entertaining prospects such as jeep safari and trekking. It is in the northwest of Pakistan. In addition, Karakoram is the most loved mountain range due to its surroundings, like lakes and scenery. It is also known as the "Savage Mountain" because it is difficult to climb. Also, Nanga Parbat, known as the "The Killer Mountain," is the ninth highest peak in the world located in Pakistan. Moreover, Safed Koh, the "White Mountains," is close to Khyber Pass. Often, energetic trekkers visit here as it has the highest polo ground in the world.
Himalayas
سلسلہ ہمالیہ
Elevation: 8,848.86 m (29,031.7 ft)
Highest Peak: Mount Everest, Nepal and Tibet
Countries: Bhutan, China, India, Nepal and Pakistan
Length: 24,000 KM
Hindukush
سلسلہ ہندوکش
Elevation: 7,708 m (25,289 ft)
Highest Peak: Tirich Mir
Countries: Afghanistan, Pakistan, and Tajikistan
Length: 800 KM
Karakoram
سلسلہ قراقرم
Elevation: 8,610 m (28,250 ft)
Highest Peak: Mount Godwin Austen
Countries: China and Pakistan
Length: 1316 KM
Nanga Parbat
نانگہ پربت
Elevation: 8,126 m (26,660 ft)
State: Gilgit-Baltistan
Parent Range: Himalaya
Length: 190 KM
Safed Koh
سفید کوہ
Elevation: 4,755 m (15,600 ft)
Highest Peak: Mount Sikaram
Countries: Afghanistan and Pakistan
Length: 160 KM
Also Check: Pakistan's Major Economic Challanges
Final words
There are many beautiful places across the globe. They provide facilities and attractions to the visitors visiting their country. Likewise, Pakistan is rich in cultural heritage, delicious cuisines, historical places, beautiful landscapes, snow-capped mountains, valleys, etc. Tourism is highly becoming trade because it helps a country earn foreign exchange as more people from international places come to Pakistan to benefit us all together. Furthermore, tourism accelerates employment opportunities and helps alleviate poverty as well. To encourage tourism, governments make developments such as better infrastructure, water and energy supply, medical facilities, and much more. Hence, we should know the Importance of Tourism in Pakistan. Also, we should take part in the development of our country.