Top 10 Places to Visit in Faisalabad – Top Tourist Attractions
Faisalabad, Pakistan's "Manchester," has a rich history and culture. It is centrally positioned in Punjab and has a diversified population. From old forts to modern architecture, this dynamic city has a lot to offer. This blog will guide you through the Top Places to Visit in Faisalabad, including historical sites and vibrant markets. Faisalabad has something for everyone, whether you're a history buff or a foodie. So pack your luggage, take your camera, and prepare to discover the city's hidden beauties.
1: Faisalabad Ghanta Ghar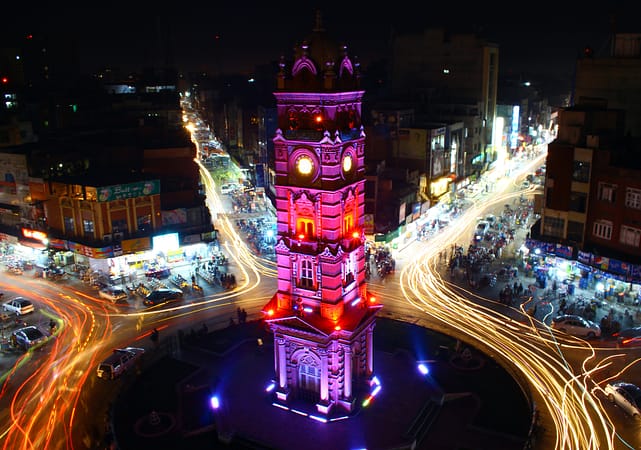 Tourists must visit Ghanta Ghar, the most iconic landmark in Faisalabad. The tower was constructed in 1903 during British colonial rule and stands tall at the centre of eight bazaars, serving as the city's commercial hub. It exemplifies Victorian architecture with intricate carvings and beautiful tiles adorning it. The clock tower was recently renovated and painted white, enhancing its charm and beauty. Visitors can climb to the top and enjoy a panoramic view of the city. Ghanta Ghar symbolizes not only Faisalabad's past but also it is present and future, as it remains a focal point of the bustling city.
2: Gumti Water Fountain
Tourists often visit Gumti Water Fountain, located near the iconic Ghanta Ghar, as it is another popular attraction in Faisalabad. The fountain was built-in 1905 and is a unique blend of Victorian and Mughal architecture, making it a fascinating sight. It is surrounded by lush green gardens and a beautiful water pool, creating a serene and tranquil environment. The Gumti Water Fountain is a popular spot for locals and tourists to relax, stroll or enjoy a picnic. In the evening, colorful lights illuminate the fountain, creating a magical atmosphere.
3: Lyallpur Museum
Lyallpur Museum is a beautiful colonial-era building that showcases the rich heritage of Faisalabad, making it a treasure trove of history and culture. It contains a vast collection of artefacts, including ancient coins, manuscripts, pottery, and traditional clothing. Visitors can also learn about the city's agricultural history and the evolution of its textile industry. The museum's exhibits are informative and well-maintained, making it an ideal among the Places to Visit in Faisalabad for history buffs and families with children. The museum also has a beautiful garden and a small cafe, making it an ideal spot to spend a relaxing afternoon. A visit to Lyallpur Museum is an excellent way to learn about the city's rich cultural heritage and its contribution to the country's history.
4: Jinnah Garden
Jinnah Garden, also called Company Bagh, is a 70-acre park located in the center of Faisalabad. It honors the founder of Pakistan, Quaid-e-Azam Muhammad Ali Jinnah, who visited the city in 1940. The park offers facilities for jogging, picnicking, and family outings, including a lake with boating, a children's playground, and a mini-zoo featuring various birds and animals. The park is beautifully landscaped with trees, flowers, and shrubs, creating a serene and peaceful environment. In the evening, colorful lights illuminate the park, creating a magical atmosphere. Jinnah Garden is an ideal place to escape the city's hustle and bustle and spend a relaxing day with family and friends.
5: D Ground Park
D Ground Park, situated in the heart of Faisalabad's commercial district, is a famous public park spread over 17 acres. People, both locals and tourists, prefer this park. It has lush green lawns, jogging tracks, a children's play area, and a small lake with boating facilities. The park offers an excellent opportunity for visitors to unwind and have a picnic with family and friends. Various cultural and recreational events, such as music concerts and food festivals, are held in the park. In the evening, the park is aglow with colorful lights, creating an enchanting ambiance. D Ground Park is the perfect place to spend a few hours and soak up the lively and bustling atmosphere of Faisalabad.
6: Aqualand Water Park
Aqualand Water Park, located on Canal Road, is a 20-acre park that offers thrilling water rides and attractions, making it an ideal destination for a fun-filled day out with family and friends. The park boasts a wave pool, lazy river, water slides, and a play area for children. It also has plenty of food stalls and a restaurant that serves delicious snacks and meals. Aqualand Water Park is the perfect place to escape the heat and enjoy a refreshing day out, with well-maintained facilities and friendly and helpful staff who ensure a safe and enjoyable experience for everyone. If you're looking for some fun and adventure in Faisalabad, then a visit to Aqualand Water Park is a must-do.
7: Sindbad Wonderland
Sindbad Wonderland, located on Canal Road in Faisalabad, is a popular amusement park. The park offers a variety of thrilling rides, including roller coasters, bumper cars, and a giant Ferris wheel. There is also a water park area with slides, splash pads, and a lazy river. The park's friendly and helpful staff ensure a safe and enjoyable experience for all visitors, and the facilities are well-maintained. It is an ideal place for families and groups of friends to enjoy a fun-filled day out. Delicious snacks and meals are served at food stalls and restaurants. Anyone seeking adventure and excitement in Faisalabad should visit Sindbad Wonderland.
8: Lyallpur Galleria
Lyallpur Galleria, situated in the centre of Faisalabad, is a contemporary shopping complex spread across 6,000 square meters. It offers a wide selection of national and international brands, attracting both locals and tourists for shopping. The mall's architecture is modern and chic, including spacious walkways, escalators, and a stunning atrium. It also features a food court with several restaurants and cafes serving a variety of local and international cuisines. Lyallpur Galleria hosts various events all year round, including fashion shows, product launches, and live music performances. It is an ideal place to indulge in some retail therapy and experience Faisalabad's modern and vibrant side.
9: Gatwala Forest Park Faisalabad
Gatwala Forest Park in Faisalabad is an ideal spot for nature lovers and outdoor enthusiasts looking to spend a day surrounded by flora and fauna. The park, located on the city's outskirts, covers an area of 1,070 acres and offers hiking trails, picnic spots, and a stunning lake. The park is dominant among the Places to Visit in Faisalabad. It boasts a diverse range of wildlife, including deer and jackals, as well as various bird and butterfly species. Gatwala Forest Park is well-maintained and offers excellent facilities, such as restrooms, camping sites, and a small cafe. It's a hidden gem that provides a peaceful escape from the city's hustle and bustle.
10: University Of Agriculture
Established in 1906, the University of Agriculture is one of Pakistan's oldest and most prestigious universities. Numerous academic and research institutions are housed on the sprawling 1,000-acre campus. The campus is a haven for nature lovers and photographers, with its beautiful gardens, botanical collections, and wildlife sanctuary. Visitors can explore various museums, such as the Entomological Museum and Ethnobotanical Museum, that showcase the area's rich biodiversity and cultural heritage. The university also hosts academic and cultural events, including conferences, workshops, and exhibitions. A visit to the University of Agriculture offers a unique opportunity to learn about the region's agricultural heritage and its contribution to the country's economy.
Also Read:
Tips to Visit Faisalabad
Choose the cooler months (Nov-Mar) for a comfortable visit.
Dress modestly and respect local customs.
Stay hydrated and protect yourself from the sun.
Indulge in local cuisine, including delicious street food.
Explore historic landmarks like Clock Tower and Qaisery Gate.
Take a leisurely walk in Jinnah Garden or Iqbal Park.
Shop at popular markets like D Ground and Sitara Mall.
Discover Faisalabad's textile heritage at textile museums and factories.
Consider hiring a local guide for a better understanding of the city.
Prioritize safety and be cautious, especially in unfamiliar areas
Final Words
Finally, Faisalabad is a vibrant and dynamic city with a rich cultural and historical legacy. From ancient monuments to modern shopping malls and entertainment parks, it has something for everyone. Visitors can explore the top Places to Visit in Faisalabad like various parks, museums, and cultural centers, or they can shop and enjoy entertainment in the city's malls and amusement parks. Furthermore, Faisalabad's friendly people and warm hospitality make it an ideal location for anyone wishing to experience the true essence of Pakistan. Visiting Faisalabad is a fantastic chance to immerse oneself in the culture, history, and natural beauty of the region and make amazing experiences.
Learn More about Faisalabad Division