Discover the Best Places to Visit in Sheikhupura: A Comprehensive Guide
Explore Sheikhupura, a city in Punjab, Pakistan. Discover its rich history, culture, and natural wonders. There's something for every traveller. Our guide about the best Places to Visit in Sheikhupura includes famous landmarks and off-the-beaten-path destinations to make your trip unforgettable. Let's begin!
1: Hiran Minar: Famous Historical Place in Sheikhupra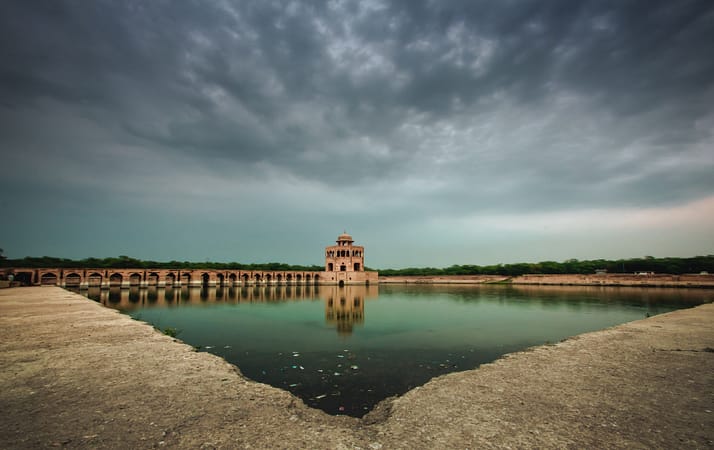 Visit Hiran Minar, a 17th-century historical complex located just outside Sheikhupura. The tower, built by Mughal Emperor Jahangir, honours his pet deer Mansraj and provides stunning views of the surrounding countryside. Explore Jahangir's Quadrangle, a former hunting ground with structures like a mosque, baradari, and tomb. Nearby, the Wildlife Park is home to deer, antelopes, and peacocks. Hiran Minar is a must-see among the Places to Visit in Sheikhupura.
2: Sheikhupura Fort: A Must see Places to Visit in Sheikhupura
Sheikhupura Fort is a historic landmark in the heart of Sheikhupura. Built during the 17th century, it served as a strategic military stronghold for the Mughal Empire. Its impressive architecture showcases a mix of Islamic and Hindu motifs. Explore the grounds, including the main gate, Sheesh Mahal (Palace of Mirrors), and Diwan-e-Aam (Hall of Public Audience). The small museum features artefacts from the Mughal era, providing insight into the region's rich history and culture. Don't miss Sheikhupura Fort for a glimpse into the legacy of the Mughal Empire.Planet Fitness – 6595 Commerce Blvd Rohnert Park, CA – Health & Fitness, Exercise & Fitness Programs, Gyms – (707)-585-8900 hcg for bodybuilders project fit 2014: get in shape on the beach with these exercises – fitness & chicness
3: Tomb of Jahangir: Near Sheikhupura
Located in Shahdara just outside of Sheikhupura, the Tomb of Jahangir is a stunning mausoleum built in memory of Emperor Jahangir. Constructed in the early 17th century, the mausoleum showcases the Mughal Empire's architectural prowess with intricate designs made from white marble and red sandstone. Moreover, The surrounding garden was a favourite spot of Emperor Jahangir and his wife Empress Nur Jahan, with beautiful flowers and trees. Inside, see the marble sarcophagus and decorative elements like intricate carvings and tilework. The Tomb of Jahangir is a must-see for the history, architecture, and legacy of the Mughal Empire.
4: Raja Sahib Gumbad
Raja Sahib Gumbad, a historic monument in the centre of Sheikhupura, is believed to have been built during the reign of Mughal Emperor Aurangzeb in the 17th century. The red sandstone dome features intricate designs and carvings adorning its exterior. Inside, visitors will find a small prayer hall with beautiful tilework and a simple yet elegant design reflecting the region's architecture. Therefore, For panoramic views of Sheikhupura and the surrounding area, climb to the top of the monument. Raja Sahib Gumbad is a serene and essential visit for history and architecture enthusiasts.
5: Sufi shrine of Pir Sheikh Hafiz Miskin
The Sufi shrine of Pir Sheikh Hafiz Miskin in Sheikhupura is a revered religious destination. It is dedicated to Pir Sheikh Hafiz Miskin, a famous Sufi saint and poet during the Mughal era. Locals and visitors visit the shrine to pay their respects and seek blessings.
The shrine includes a beautiful mosque and other buildings that have been constructed over the years. Visitors can explore the peaceful grounds, which are adorned with lovely gardens and fountains. The shrine also has a large courtyard where visitors can offer prayers, and a tomb where Pir Sheikh Hafiz Miskin's remains are laid to rest. Visitors can also participate in various religious activities and rituals that take place at the shrine throughout the year, including Qawwali performances and Sufi gatherings.
6: Chenab River
The Chenab River, located near Sheikhupura, is a vital waterway in Pakistan and a popular destination for tourists and locals alike. Known for its clear waters and stunning views, the river is perfect for outdoor activities and picnics. Visitors can take boat rides to observe the area's wildlife or fish in its waters for a variety of fish species. For nature lovers and those interested in exploring Pakistan's natural beauty, the Chenab River is a must-see among the Places to Visit in Sheikhupura.
Also read: Places to Visit in Gujranwala & Places to Visit in Sialkot
Check the Encyclopedia of Shiekupura on Punjab Portal
FAQs about Sheikhupra
Where is Sheikhupura?
Sheikhupura is located in the eastern portion of Pakistan, some 40 kilometres northwest of Lahore, the province capital. It is located on the fertile plains of the Punjab area, which is well-known for its agricultural legacy. Sheikhupura is a key centre of trade, business, and transportation in the region, thanks to its vibrant culture, bustling marketplaces, and developing industrial sector.
History of Sheikhupura
Sheikhupura's history spans several millennia, giving witness to various civilizations and empires that have left their imprint on the region. The city's origins may be traced back to the Mughal era, when Emperor Jahangir erected Hiran Minar, a hunting lodge in the area, in the early 17th century. Mansraj, his pet deer, inspired the construction of the lodge. The village around Hiran Minar developed throughout time, eventually becoming Sheikhupura. Sheikhupura rose to prominence as a major military and administrative centre under the Sikh Empire in the nineteenth century. It was also an important centre for Sikh religious activities. Following British administration, the city expanded with the addition of modern infrastructure and the formation of educational institutions. Today, Sheikhupura is a testimony to its historical history, combining influences from numerous eras to create a dynamic and culturally varied city.
Final Words
To sum up, Sheikhupura is a culturally and historically rich city that offers numerous fascinating destinations to visitors. With ancient archaeological sites, beautiful shrines, and serene natural spots, the city has something for everyone. Whether visitors are interested in history, architecture, religion, or nature, Sheikhupura has it all. Therefore, anyone planning a trip to Pakistan should add Sheikhupura to their itinerary and experience the beauty and wonder of this unique and fascinating city firsthand.