Places to Visit in Skadu: Top Tourist Destinations in Picturesque Valley of Skardu
Skardu is a stunningly beautiful valley in Pakistan's Himalayan region, surrounded by some of the world's biggest mountain ranges such as the Karakoram, Himalayas, and Indus Valley. Due to its snow-capped peaks, tranquil lakes, and visual magnificence, it is a popular tourist destination for both domestic and international visitors. Skardu is a one-of-a-kind blend of natural beauty, cultural heritage, and adventure sports that gives an unforgettable travel experience. We'll look at the must-try local cuisine as well as the top Places to visit in Skardu in this article.
1: Shangrila Resort: A Picturesque Retreat in Skardu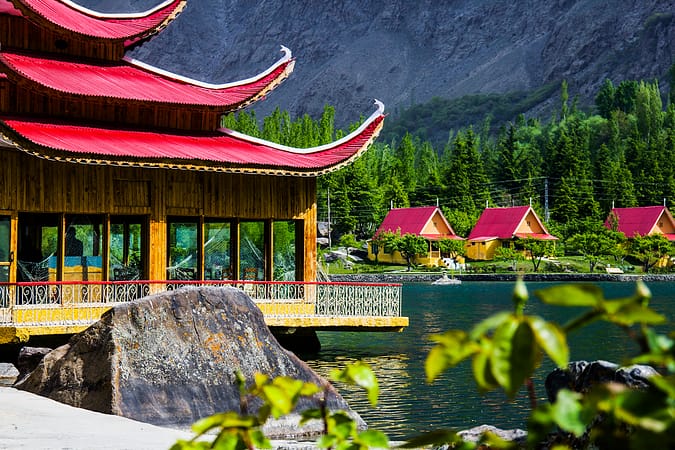 The Shangrila Resort in Skardu is a breathtaking tourist attraction surrounded by majestic peaks of snow and lush nature. The resort offers lodging, dining, and recreational activities such as boating, horseback riding, and hiking in the nearby hills. A museum at the resort also displays the history and culture of the area. Shangrila Resort is a must-see for those looking for an oasis of peace in the heart of Skardu.
2: Kachura Lakes: Serenity and Tranquility in the Heart of Skardu
Kachura Lakes, located in the centre of Skardu, are two tranquil lakes. Upper Kachura, the first lake, is surrounded by mountains and offers a spectacular sunset view. Lower Kachura, the second lake, is well-known for its crystal-clear waters and reflections of the surrounding mountains. Visitors can relax and have a calm picnic by the lake, take a boat trip, or simply rest and enjoy the spectacular scenery. The Kachura Lakes are a must-see for visitors looking for peace and natural beauty in Skardu.
Also Check: Top Lakes in Pakistan
3: Khaplu Valley: Exploring Skardu's Rich Cultural Heritage
Khaplu Valley, a historic town in Skardu, is famous for its spectacular architecture and cultural treasures. The Khaplu Fort, Chaqchan Mosque, and Khaplu Palace are among the town's historical sites. By visiting these locations and experiencing the local way of life, visitors can learn about the region's rich cultural legacy. Khaplu Valley is a must-see for those interested in learning more about Skardu's rich history and cultural heritage.
4: Skardu Fort: A Glimpse into Skardu's Royal Past
Skardu Fort, located in the centre of Skardu, is a beautiful 16th-century edifice that provides a look into the region's royal past. The fort's various chambers and halls, notably the throne room and the watchtower, with their elaborate architecture and historical value, are open to visitors. In addition, the fort provides a breathtaking perspective of the surrounding mountains and valleys.
5: Deosai National Park: A Natural Paradise Place to Visit in Skardu
Deosai National Park is a natural wonderland with stunning scenery and a variety species. The park is home to various animal species, including brown bears, snow leopards, and ibex, making it a popular wildlife viewing site. Trekking and camping are available in the park's great expanse of lush green meadows and snow-capped peaks. Deosai National Park is a must-see among the Places to Visit in Skardu for people looking for an adventurous outdoor experience.
Also Check: Places to Visit in Gwadar
6: Manthal Buddha Rock: Uncovering Skardu's Ancient Buddhist Site
The Manthal Buddha Rock is a historic Buddhist landmark notable for its beautiful carvings and rock paintings that date back to the 8th century. The site exemplifies the region's rich history and cultural diversity. Visitors can learn about the old Buddhist civilisation that once thrived in the area by exploring the different carvings and paintings on the rock.
7: Sadpara Lake: A Serene Getaway in the Lap of Nature
Sadpara Lake is a beautiful and serene body of water surrounded by snow-capped mountains and magnificent landscapes. Visitors can explore the beautiful surroundings and peaceful environment by boating, fishing, and camping in the adjacent hills.
Experiencing Skardu's Local Cuisine: Must-Try Dishes and Restaurants
Skardu has beautiful tourism spots and is a foodie's heaven. Try these must-try foods and suggested restaurants to get a taste of the local cuisine:
Try Skardu Chapshoro, a popular dumpling dish filled with minced meat and vegetables, pan-fried, and served with spicy tomato sauce.
Taste Skardu Trout, a freshwater fish with delicate flavor and tender texture, prepared by grilling or frying and served with rice or vegetables.
Savor Skardu Khambal Lamb, a traditional lamb curry slow-cooked with local spices and herbs, served with naan bread or rice.
Visit Café De Hunza, a cozy café with warm hospitality, serving local specialties, international cuisine, and freshly baked pastries.
Check out River View Restaurant, a popular restaurant by the river serving local cuisine, grilled meats, and fresh salads with scenic views.
Check Fehmeeda Khan Guide on Gilgit Baltistan Local Cuisine Recipes
Local cuisine in Skardu combines aromatic spices, fresh ingredients, and traditional cooking techniques. Visitors can get a taste of Skardu's authentic flavours by sampling these dishes and visiting these restaurants.
Also Read: History of Skardu
Conclusion: Why Skardu Should Be Your Next Travel Destination
In conclusion, Skardu, Pakistan, provides an unforgettable vacation experience with its gorgeous natural reserves, rich cultural heritage, and wonderful local cuisine. Skardu's natural beauty is spectacular, with snow-capped peaks, azure lakes, and green valleys. It is also great for outdoor activities including trekking, camping, and mountain climbing. Shigar's ancient fort and the Kachura Lakeside Palace are examples of historical architecture that provide insight into the region's rich history and cultural heritage.
Skardu's regional food is a must-try, with tasty and aromatic meals made with fresh ingredients and native spices, which visitors can experience at some of the region's top restaurants while viewing the surrounding mountains and valleys. Skardu, in general, promises an unforgettable travel experience for explorers, leisure travelers, and those interested in Pakistani culture and history. These top Places to Visit in Skardu should be on every traveller's bucket list.