Top Things to Do and See in Pakistan's Capital: Discovering the Best of Islamabad
Discover Islamabad, the capital city of Pakistan, a hidden gem filled with modern architecture, lush green parks, and rich history. Tourists and locals alike can enjoy a variety of activities, such as exploring museums and monuments and indulging in Pakistani cuisine. Join us in this blog as we explore the top things to do in Islamabad. We will include marvelling at its architectural wonders and taking day trips to surrounding areas. Let's dive in and discover the vibrant city of Islamabad together!
Marvel at Islamabad's Architectural Wonders
Islamabad's modern and traditional architecture sets it apart from other cities in Pakistan. Here are some architectural wonders to see:
Visit the Faisal Mosque: Islamabad's Iconic Landmark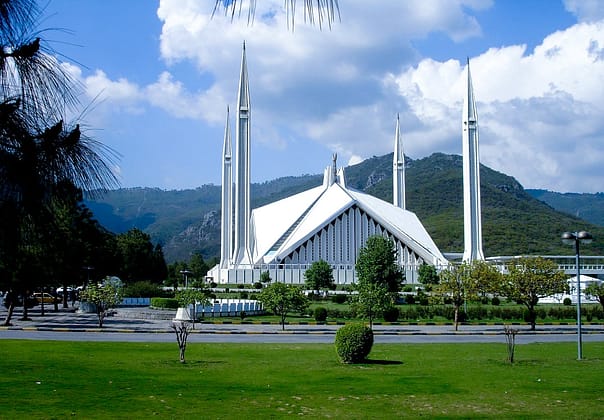 The Faisal Mosque, an iconic symbol of Islamabad's skyline, is the largest mosque in Pakistan. Its unique design is inspired by a Bedouin tent. This mosque includes eight-sided shell-shaped roofs and four 260-foot-tall minarets. The interior is adorned with intricate marble work, calligraphy, and stained glass windows. Its prayer hall can hold up to 100,000 worshippers, making it one of the world's largest mosques.
Also Check: Badshahi Mosque in Lahore
Explore the Pakistan Monument
A Fusion of Modern and Traditional Design The Pakistan Monument represents national unity with its fusion of modern and traditional design. It consists of four petals symbolizing the nation's four provinces and three territories, meeting at the top to form a star-shaped structure. Inside, a museum showcases Pakistan's history and culture, making it a must-see attraction.
Shop and Dine at Centaurus Mall
Centaurus Mall, a high-end shopping mall, offers luxury brands, cafes, and restaurants. Its eight floors house over 250 international and local brands, making it a shopper's paradise. The mall's rooftop restaurants offer fine dining with a view of the Margalla Hills and the city's skyline. Its unique design, inspired by Islamic architecture, adds to the mall's allure.
Also Check Places to Visit in Quetta
Dive into Pakistan's History at Museums and Monuments
Islamabad is a city that showcases Pakistan's rich history and culture. Here are some top places to explore:
Discover the Lok Virsa Museum
The Lok Virsa Museum exhibits Pakistan's heritage and traditions through its collection of handicrafts, textiles, and folk art from different regions. The museum's interactive displays allow visitors to learn and explore Pakistan's diverse culture.
Trace the History of the Gandhara Civilization at the Taxila Museum
The Taxila Museum, located on the outskirts of Islamabad, houses a vast collection of artifacts from the 5th century BC Gandhara civilization. The collection includes sculptures, coins, and pottery that provide a glimpse into the civilization's rich history and culture.
Walkthrough Rawalpindi's Rich History on the Heritage Trail
The Rawalpindi Heritage Trail is a guided tour of Rawalpindi's historic sites and buildings. That includes bazaars, colonial-era buildings, and ancient temples. The trail is an excellent way to explore Rawalpindi's rich history and culture.
Take in the View from Daman-e-Koh
Daman-e-Koh, located in the Margalla Hills, offers panoramic views of Islamabad and its surroundings. It's a popular spot for tourists and locals, especially at sunset. Visitors can also hike or trek through the Margalla Hills National Park, making it a great way to explore the great outdoors.
Indulge in Pakistani Cuisine
Foodies in Islamabad can indulge in a variety of Pakistani cuisine offered in its restaurants and food streets. Here are some recommendations:
Monal Restaurant: This restaurant situated atop Margalla Hills offers traditional Pakistani cuisine like kebabs, biryanis, and curries with a stunning view of Islamabad.
Food Streets: Islamabad's Melody Food Street is a popular spot for foodies with a variety of local cuisine such as chaat, kebabs, and tikkas.
Pakistani High Tea at Serena Hotel: Located in Islamabad's heart, Serena Hotel serves Pakistani high tea featuring traditional snacks like samosas, pakoras, and sweets, along with tea or coffee, in its lush gardens.
Galiyat Valley Traditional Food: Nature lovers can take a day trip to Galiyat Valley in the Abbottabad district, famous for its natural beauty, forests, and mountains, and taste Pakistani cuisine like trout fish and barbeque.
Find the best Foods to try in Islamabad with Hamza Bhatti – The Foodie Pro Max 🙂
Shop Till You Drop
Islamabad has multiple shopping options with various markets and malls. Check out some of the top places to shop in Islamabad:
Luxury Shopping Experience at Centaurus Mall: It offers a luxury shopping experience. The mall has high-end fashion and beauty brands and numerous dining options. Its architecture and ambiance make it a favorite spot for shopping and socializing.
Bargain Shopping at Its Best in Jinnah Super Market: Jinnah Super Market, situated in the F-7 sector of Islamabad, is a bustling market that provides a range of products, including clothing, accessories, and electronics, at bargain prices. It is a well-liked destination for locals and tourists, particularly those who enjoy bargaining.
One-Stop Shop for Local Products at Melody Market: The Melody Market, a traditional market located in the heart of Islamabad, is the place to go for authentic Pakistani products and gifts. The market offers a variety of local products, including handicrafts, textiles, and souvenirs.
Treasure Trove of Bargains at Islamabad Sunday Bazaar: The Islamabad Sunday Bazaar is a weekly flea market held every Sunday in Islamabad. This market provides a variety of products, including clothing, accessories, and household items, at bargain prices. It's an excellent spot to hunt for unique and affordable finds.
Also check: Places to Visit in Gwadar
Enjoy the Great Outdoors: Parks and Gardens in Islamabad
Islamabad is known for its greenery and beautiful parks and gardens. Here are some top parks and gardens to visit in Islamabad:
Margalla Hills National Park: Nature's Paradise The Margalla Hills National Park is a beautiful park located on the outskirts of Islamabad. The park offers several hiking trails and scenic viewpoints that provide stunning views of Islamabad and its surroundings. Visitors can also enjoy picnics and birdwatching in the park.
Daman-e-Koh: Panoramic Viewpoint Daman-e-Koh is a scenic viewpoint located in the Margalla Hills. The viewpoint offers panoramic views of Islamabad and its surroundings, and is a popular spot for tourists and locals alike. Visitors can also enjoy a cup of tea and snacks at the nearby café.
Shakarparian: Picnic Spot with a View Shakarparian is a park located in the heart of Islamabad that offers a variety of outdoor activities, including picnics, hiking, and sightseeing. The park offers stunning views of Islamabad and its landmarks, including the Faisal Mosque and the Parliament House.
Fatima Jinnah Park: Serene Oasis in the City The Fatima Jinnah Park is a beautiful park located in the F-9 sector of Islamabad. The park offers several jogging and walking tracks, picnic areas, and children's play areas. The park is also home to several species of birds and provides a serene escape from the hustle and bustle of the city.
Also check: Places to Visit in Sialkot
Final Words
In conclusion, The capital city has cultural sites, shopping areas, and great outdoor spots, making it suitable for all kinds of travelers. There are various activitiesm attractions and Things to do in Islamabad for every traveller. Furthermore, Islamabad's serene parks, gardens, and scenic viewpoints offer a tranquil escape from the fast-paced city life. If you are planning a trip to Pakistan, make sure to include Islamabad in your itinerary and enjoy all that this stunning city has to offer.