Discover the Best Things to Do in Dubai: Top Tourist Attractions, Adventure Activities, Beaches, Shopping, and More
With its wonders, Dubai, the city of wonders in the United Arab Emirates, attracts visitors from all over the world. Its cutting-edge architecture, luxury lifestyle, and plenty of entertainment opportunities have made it a global tourism, business, and commerce magnet. From soaring skyscrapers to pristine beaches, exhilarating adventure activities to opulent shopping, this city has something for everyone. In this article, we will look at the Top Things to do in Dubai, such as its iconic landmarks, adventure activities, beaches, shopping possibilities, food scene, and cultural experiences, in order to make it a once-in-a-lifetime vacation.
Top Tourist Attractions in Dubai
Millions of visitors from around the world are attracted to Dubai every year, making it a hub for tourism. The city's innovative architecture, cultural heritage, and luxurious lifestyle are reflected in its top tourist attractions. Here are some must-visit attractions in Dubai:
Burj Khalifa: The Burj Khalifa is the world's tallest building at 828 meters. Visitors can go up to the observation deck on the 124th floor and enjoy stunning panoramic views of the city.
Dubai Fountain: The Fountain, located at the base of Burj Khalifa, is the world's largest choreographed fountain system. In the evening, visitors can witness a spectacular display of water, light, and music.
Dubai Miracle Garden: The Dubai Miracle Garden is the world's largest flower garden, with over 45 million flowers arranged in various designs and patterns. It's a must-visit attraction for nature lovers.
Dubai Mall: With over 1,200 stores, an indoor aquarium, an ice rink, and a variety of dining options, the Dubai Mall is one of the world's largest shopping malls.
Dubai Museum: The Museum is located in the oldest existing building in Dubai and showcases the city's history and cultural heritage through interactive exhibits and displays.
Adventure Activities in Dubai
Dubai offers a variety of thrilling activities for adventure enthusiasts. Here are some of the top adventure activities to try:
Skydiving: Jump out of an airplane at 13,000 feet and freefall for 60 seconds with a tandem skydive over the Palm Jumeirah.
Dune Bashing: Slide, drift, and jump over sand dunes with a 4×4 SUV ride through the desert.
Falconry: Experience the traditional Emirati sport of falconry, which involves hunting with trained falcons. Visit the Dubai Desert Conservation Reserve for a falconry experience.
Hot Air Balloon Rides: Enjoy stunning sunrise views of the desert, camels, and wildlife from above with a hot air balloon ride.
Bedouin Camp: Visit a Bedouin camp and experience the traditional Bedouin way of life. Enjoy Arabic coffee, dates, and a traditional meal under the stars.
Indoor Skiing: Hit the slopes at Ski Dubai, an indoor ski resort located in the Mall of the Emirates.
Water Sports: Try jet skiing, parasailing, flyboarding, or banana boat rides in Dubai's warm waters.
UAE offers something for everyone, whether you're an adventure junkie or a first-time thrill-seeker.
The Best Beaches in Dubai
Dubai's pristine beaches offer a perfect escape from the bustling city life. Tourists and locals alike flock to the miles of soft sand, clear blue waters, and luxurious beach clubs. Here are some of the best beaches in Dubai:
Jumeirah Beach: Known for its soft sand and crystal-clear waters, Jumeirah Beach is great for swimming, sunbathing, and water sports.
Kite Beach: A popular destination for kite surfers and windsurfers, Kite Beach also offers beach volleyball, kayaking, and paddleboarding.
La Mer Beach: A trendy beachfront spot with beach clubs, restaurants, and water sports activities, La Mer Beach is great for families and young adults.
Al Mamzar Beach Park: A hidden gem known for its calm waters, lush greenery, and picnic spots, Al Mamzar Beach Park is perfect for a relaxing day out.
Dubai's beaches cater to everyone, whether you're looking for a relaxing day or an action-packed adventure.
Shopping in Dubai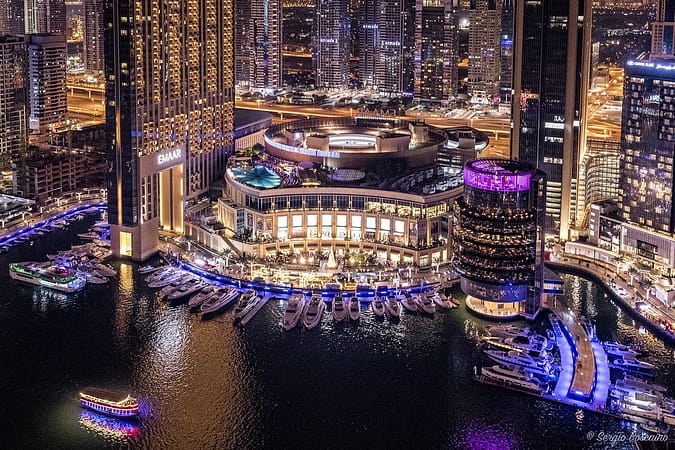 Dubai is known for its luxurious shopping experiences, from high-end designer brands to traditional souks. Here are some of the top shopping destinations in Dubai:
Dubai Mall: This Mall is not only the world's largest shopping mall but also a destination in itself, with over 1,200 stores, an indoor aquarium, an ice rink, and a variety of dining options.
Mall of the Emirates: Mall of the Emirates is another popular shopping destination in Dubai. its also known for its luxury brands, ski resort, and entertainment options.
Souk Madinat Jumeirah: Head to Souk Madinat Jumeirah for traditional shopping experiance. It is a recreation of an ancient Arabian marketplace. Visitors can shop for traditional Arabic clothing, jewelry, spices, and souvenirs.
Dubai Gold Souk: The Dubai Gold Souk is a traditional market in the heart of Dubai. its known for gold jewelry, diamonds, and precious stones.
The Dubai Mall at Fashion Avenue: For high-end designer brands, head to The Dubai Mall at Fashion Avenue. You'll find luxury brands like Chanel, Gucci, and Prada.
Additionally, Visitors can also take a stroll around City Walk. Which is a popular outdoor shopping area offering a wide range of high-end and casual brands. There are also a number of restaurants and cafes. In addition, Ibn Battuta Mall is a one-of-a-kind shopping destination. It is intended to symbolise various places and countries visited by the well-known Arab explorer Ibn Battuta. Finally, the Outlet Village provides lowered rates on designer and luxury items for consumers looking for a good deal.
Dubai's Culinary Delights
The city offers a diverse culinary scene that caters to every taste and budget. Here are some of the top food experiences to try:
Arabic Cuisine: Dubai's local cuisine blends Middle Eastern, Mediterranean, and Indian flavors, featuring dishes such as shawarma, kebabs, hummus, and falafel. Al Fanar Restaurant offers an authentic Emirati dining experience.
Seafood: Surrounded by the Arabian Gulf, Dubai is a paradise for seafood lovers. Pierchic at Madinat Jumeirah provides an upscale seafood dining experience with stunning views of the Burj Al Arab.
Indian Cuisine: With a large Indian community in Emirates, Indian cuisine is widely available. Rang Mahal by Atul Kochhar offers an elevated Indian dining experience.
Street Food: Head to Al Rigga neighborhood for a taste of the local street food scene, with a variety of shawarma stalls, falafel shops, and bakeries.
Brunch: Brunch is a popular weekend activity in Dubai, with many restaurants offering all-you-can-eat buffets and bottomless drinks. Experience the extravagant Bubbalicious Brunch at The Westin Dubai Mina Seyahi Beach Resort & Marina.
Dubai's culinary scene offers a diverse range of options, from local street food to high-end dining experiences.
Dubai's Nightlife
Dubai offers a diverse and exciting nightlife scene, with plenty of options for every taste. Here are some of the top destinations:
At.mosphere Lounge: Head to the At.mosphere Lounge at the Burj Khalifa, the world's tallest building, for stunning nighttime views of the city and a luxurious rooftop dining experience.
Skydive Dubai: Experience an adrenaline-fueled night out with a nighttime skydiving adventure.
Dubai Fountain Show: Don't miss the spectacular Dubai Fountain Show, featuring water displays set to music and lights.
Dubai Marina: Marina offers a variety of nightlife options, including waterfront bars, restaurants, and nightclubs.
Zero Gravity: Head to Jumeirah Beach Club's Zero Gravity for an all-day beach party with a variety of restaurants, bars, and nightclubs.
Dubai's nightlife scene has something for everyone, whether you're looking for a luxurious rooftop experience or an all-night beach party.
Also check Budget Travel Hacks
Cultural Experiences in DXB
Emirate's deep roots in tradition and culture offer plenty of opportunities to experience the local culture. Here are some of the top cultural experiences to enjoy:
Visit the Dubai Museum: The Museum showcases traditional Emirati life and the city's history and culture through exhibits.
Join the Sheikh Mohammed Centre for Cultural Understanding: This center provides tours and activities that aim to promote cultural awareness and understanding.
Take a tour of the Jumeirah Mosque: The Jumeirah Mosque is a stunning example of Islamic architecture that's open to non-Muslim visitors.
Shop at traditional souks: The Traditional souks offer a unique shopping experience, with vendors selling spices, textiles, and jewelry. The Gold Souk is particularly famous for its dazzling display of gold and precious stones.
Enjoy a show at the Dubai Opera: This stunning venue showcases a variety of local and international performing arts productions.
Dubai's cultural experiences provide a glimpse into the city's rich history and traditions, whether you're exploring museums, visiting mosques, or shopping at traditional souks.
Check: How to Travel in Dubai on Budget.
Conclusion: Dubai – A Destination Like No Other
In conclusion, Dubai is a city that provides visitors with a diverse selection of experiences. There are numerous Things to do in Dubai for everyone, from magnificent architecture to desert excursions and cultural activities. Furthermore, the city's diverse and international population has developed a distinct and lively culture that blends tradition with modernity. It is sure to leave an impression whether you are looking to indulge in world-class cuisine, explore the desert, or experience the local culture.