Top Must-Visit Valleys in Pakistan – Famous Tourist Attractions
Pakistan has amazing natural beauty, lying in the foothills of the mighty Himalayan and Karakoram mountain ranges. Snow-capped peaks and lush green valleys provide refuge for nature enthusiasts and adventure seekers alike. This blog takes you on a journey through Pakistan's most beautiful valleys. Exploring each country's culture, history, and natural beauties while providing travel advice. Whether you're a seasoned traveller or a first-time visitor, join us as we explore the grandeur of Pakistan's valleys.
1: Hunza Valley
Hunza Valley is located in the Gilgit-Baltistan region of Pakistan. It is one of the most beautiful and visited valleys in the country. This picturesque valley is known for its stunning views of snow-capped peaks, crystal-clear rivers, and terraced fields of crops. Furthermore, Visitors can explore the centuries-old forts and traditional villages, sample the delicious local cuisine, and trek the many scenic trails in the valley. Hunza Valley is also famous for its cherry blossoms, which bloom in the spring and attract visitors from all over the world. With its unique culture and stunning natural beauty, Hunza Valley is a must-visit destination for anyone travelling to Pakistan.
2: Neelum Valley
The Neelum Valley is situated in the Azad Kashmir region of Pakistan. It boasts a stunning natural beauty that attracts many visitors. The valley derives its name from the Neelum River that runs through it. The river houses numerous picturesque waterfalls, lush green forests, and crystal-clear lakes. Moreover, Tourists can enjoy guided treks, fishing in the river, or exploring the many traditional villages and markets in the valley. Additionally, adventure seekers can partake in activities like rafting, camping, and rock climbing. Neelum Valley is a must-visit destination for anyone looking to explore the natural beauty and adventure sports that Pakistan has to offer.
3: Swat Valley
Swat Valley is located in the Khyber Pakhtunkhwa province of Pakistan. It is a popular tourist destination famous for its natural beauty and rich cultural history. The valley is host to a plethora of historic sites and ancient Buddhist stupas that draw visitors from around the globe. Aside from its cultural heritage, Swat Valley boasts stunning natural beauty, with snow-capped peaks, lush green forests, and winding rivers. Travelers can embark on guided tours to explore the many historic sites or hike the valley's scenic trails. Moreover, trout fishing is a favorite activity among visitors to Swat Valley. With its rich history and awe-inspiring natural beauty, Swat Valley is a destination not to be missed by anyone venturing to Pakistan.
4: Kumrat Valley
Kumrat Valley in KPK is a stunningly beautiful valley. Visitors to the valley can experience a serene atmosphere, crystal clear streams, lush green meadows, and breathtaking mountain ranges that provide a spectacular view. Snow-capped peaks, dense forests, and alpine meadows surround Kumrat Valley, making it a perfect place for trekking and camping. Furthermore, A jeep track winds its way through the scenic mountains, offering a thrilling journey to those who visit. Kumrat Valley truly represents a gem of Pakistan's natural beauty, and anyone seeking tranquillity and adventure in the lap of nature must visit.
5: Naran and Kaghan Valley
Naran and Kaghan Valleys are popular tourist spots often explored together by visitors. Naran's picturesque beauty and proximity to the breathtaking Saif-ul-Malook Lake are renowned. That offers stunning views of the surrounding mountains. Kaghan Valley, on the other hand, is famous for its verdant forests, alpine meadows, and crystal-clear lakes. Tourists can enjoy guided tours in both valleys to explore the many scenic trails, which provide awe-inspiring views of the surrounding mountains and valleys. Additionally, the valleys contain many hot springs, are believed to possess medicinal properties, and are a popular spot for relaxation. Naran and Kaghan Valleys in Pakistan are destinations that should not be missed by anyone immerse themselves in the natural beauty of Pakistan, with their tranquil natural beauty and adventurous activities.
6: Skardu Valley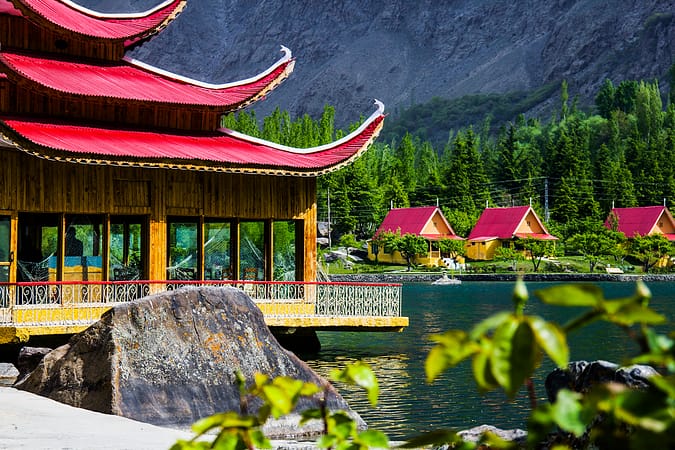 Skardu Valley, located in the Gilgit-Baltistan region of Pakistan, draws many visitors due to its stunning natural beauty and adventurous activities. The valley's towering mountains surround it and numerous scenic lakes, including the famous Satpara Lake and Sheosar Lake, are located here. Guided tours are available for visitors to explore the valley's many scenic trails, which provide breathtaking views of the surrounding peaks and valleys. Skardu Valley is also a popular destination for adventure sports such as trekking, rock climbing, and paragliding. Additionally, visitors can explore the Skardu historic sites, such as the 8th-century Kharpocho Fort and the Shigar Fort. Anyone seeking an off-the-beaten-path adventure in Pakistan must visit Skardu Valley with its rugged natural beauty and adventurous activities.
7: Kalash Valley
Kalash Valley is located in the Chitral district of KPK. The valley is home to the Kalash people, an ethnic group with their own language, customs, and traditions. Visitors can explore traditional villages, markets, and learn about Kalash culture. The valley boasts of lush green forests, meandering rivers, and snow-capped peaks, making it a scenic beauty. Adventure sports like rock climbing and trekking are available, and guided tours take visitors to explore the many scenic trails. For an authentic cultural experience in Pakistan, Kalash Valley is a must-visit destination.
Final Words
Pakistan features breathtaking valleys with one-of-a-kind natural beauty, cultural legacy, and adventure activities. Neelum Valley is known for its lush forests and crystal-clear lakes, Skardu Valley for its rugged terrain and adventure sports, Swat Valley and Kaghan Valley for their cultural heritage and scenic beauty, and Kalash Valley for the opportunity to learn about a fascinating ethnic group's traditions and way of life. These Valleys in Pakistan provide a getaway from city life and are likely to leave tourists with a lasting impression.